AZGiveCamp VI is almost upon us. This post contains everything you need to know about where to be and when to be there for this awesome weekend of coding for charity.
The doors open for technical volunteers at 4pm on Friday. Registration runs through dinnertime at 7pm so you can arrive anytime between 4pm and 7pm, but we recommend getting there early for maximum flexibility in the projects that are available.
A full schedule for the weekend is available here.
The facility is located on the northeast corner of 11th Ave. and Flower St. on the campus of Phoenix College. For those who attended last year's event, we will be in the exact same place. Flower is north of Thomas and south of Osborn. There is plenty of free parking in the lot on the southwest corner of the same intersection. Park as close to the funky statue on the corner as you can, and walk across the street to the Willo Room. Signs will be posted in the area.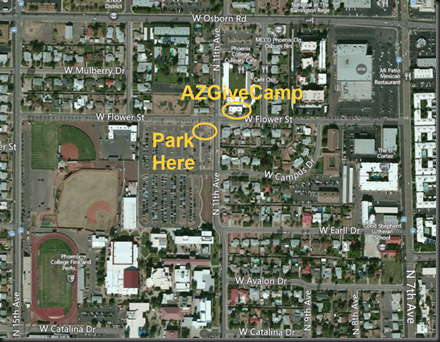 From I-10, exit at 7th Ave and head north about 1.5 miles. Turn west (left before the Bashas') onto Flower St. The parking lot will be at 11th Ave., approximately 1/2 mile away.
From I-17, exit on Thomas Rd. and head east a little over 1.5 miles. Turn north onto 11th Ave. and the parking lot will be on your left, about a quarter-mile up.
If you have any problems finding the facility, you can call or text us at (623) 252-GIVE (4483) or Tweet us at @AZGiveCamp.
AZGiveCamp VI FAQ: